Pathway to 100k Fundraiser
2021-Current
$1.50 donates a full meal to someone in need
Discounted meals by 1/2, in efforts to feed more folks during the pandemic.
We donate our time and profit in order to achieve our efforts of fighting hunger together.
P's Community BIG GIVE Events
Christmas Day Community Outreach w/ Aloha Friday + Marshall Law Band
Christmas 2021
500 meals donated by Aloha Friday in partnership with Conscious Eatery. Marshall Law Band extended an invite to their longtime community event of giving back on Christmas Day, leading into their Gala each year.
Fremont Friday w/ Aloha Friday Project
White Center Food Bank's 5k Fundraiser
Meal Distribution at White Center Food Bank
Meal Distribution at St. Vincent de Paul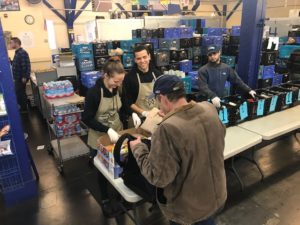 Thanksgiving Day Breakfast Outreach
Thanksgiving 2016 Cierra, Chaz + Autumn hit the streets to pass out breakfast and genuine community connection.
Meal Distribution w/ Mary's Place
September 2016
Cierra, Chaz, Julie, Gopesh + Autumn stopped by Mary's Place in South Lake Union to pass out lunch to children + establish community partnership.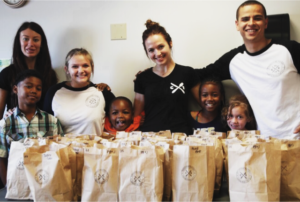 The Alley at Bite of Seattle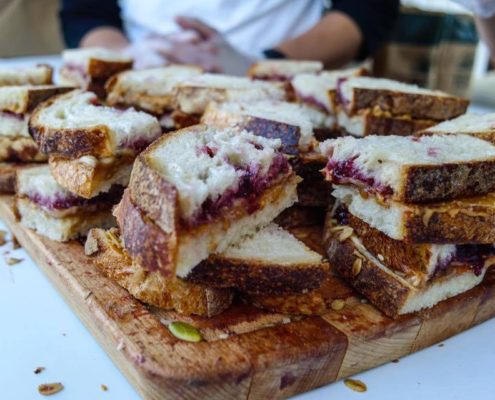 We were honored to be featured in The Alley at the Bite of Seattle this year. With the theme Food For a Cause, The Alley is a showcase of 6 Seattle restaurants and the proceeds benefit Food Lifeline. Every day, Food Lifeline provides 88,000 meals to those in need throughout Western Washington. This organization is inspiring and an prime example of what we strive for. The experience was truly humbling, to not only be featured alongside premier restaurants such as Purple and Duke's Chowder House, but to be a part of something that aligns directly with our cause. Throughout the day, we had the pleasure of serving around 2,300 people and we enjoyed plenty of positive feedback on our Granola PB+J Sandwich. We're looking forward to participating in the iconic Bite of Seattle again in 2017!